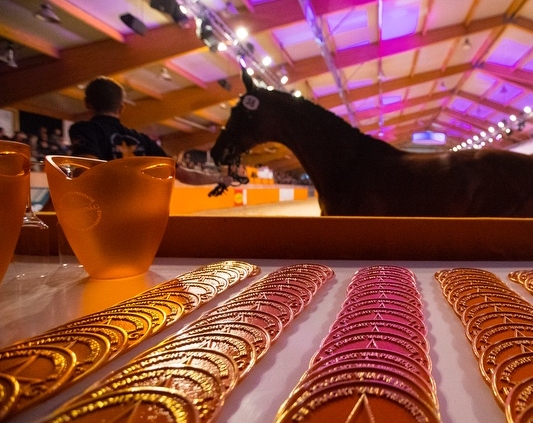 Foal Auction Prinsjesdag will auction foals online from June
In the current uncertain times, Foal Auction Prinsjesdag likes to think in solutions and possibilities to serve both the loyal breeders and the regular customer base. That is why Foal Auction Prinsjesdag will auction ten jumping foals and ten dressage foals online from June on the third Tuesday of the month via Prinsjesdag Online.
The first edition will therefore take place on Tuesday 16 June and the foals will be auctioned live via the online auction platform Prinsjesdag Online. Foal Auction Prinsjesdag aims to organize these online auctions monthly at least until September.
Naturally, the selection committee of Foal Auction Prinsjesdag will also work for the online editions under the motto 'The Power of Performance' and will look for the best and most interesting foals. Because the Foal Auction Prinsjesdag attaches great importance to transparency, the available information and the photo and video material of the foals will be even more comprehensive.
In the meantime, the board and the organization of Foal Auction Prinsjesdag are brainstorming about the possibilities with regard to the planned auction of 15 and 16 September and the developments surrounding the Corona measures are being closely monitored. Foal Auction Prinsjesdag is exploring all options and hopes to be able to make a final decision soon about the annual auction in September.
Registrations for the online editions are now open and you can register your foal via the website www.prinsjesdag.eu. The central selection days will be canceled for 2020, but taking into account all government and RIVM protocols, the selection committee would like to contact you about selecting your foals.
Foal Auction Prinsjesdag wishes everyone good health in the coming period and is motivated to look forward to the online auctions from June!
https://www.prinsjesdag.eu/wp-content/uploads/2022/05/hef-glas.jpg
533
533
bonsai
https://www.prinsjesdag.eu/wp-content/uploads/2022/05/Logo-prinsjesdag.png
bonsai
2020-04-22 14:46:23
2020-04-22 14:46:23
Foal Auction Prinsjesdag will auction foals online from June