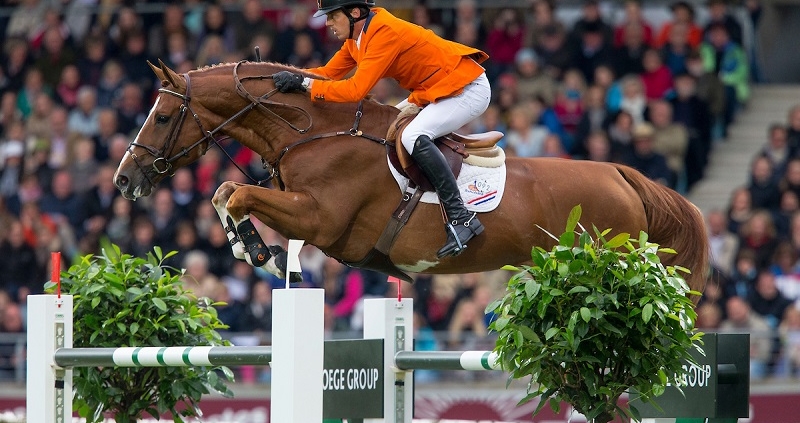 Prinsjesdag Online: five exclusive embryos and a straw from Chacco Blue
Prinsjesdag Online will auction five exclusive embryos and a straw from Chacco Blue on Monday evening 16 March from 9 pm on www.prinsjesdagonline.eu. The collection consists of embryos from Scuderia 1918 Tobago Z, Aganix du Seigneur and Big Star, among others. In addition, Prinsjesdag Online is also auctioning a rare straw of frozen semen from the legendary Chacco Blue.
Monday, March 16, Prinsjesdag Online will auction the six auction items via a live online auction format. You can easily register via this link (https://prinsjesdag.weauction.nl/register) and you can bid online.
Scuderia 1918 Tobago Z combined with sister Emerald
The first embryo was bred directly from the mare Quattro Stagioni van 't Meulenhof, the full sister of the very talented stallion Nixon van 't Meulenhof and half sister of the world famous Emerald and the five-star Grand Prix show jumpers Diamanthina van 't Ruytershof and Ilusionata van 't Meulenhof. The sire of this first embryo is the world famous Scuderia 1918 Tobago Z; one of Daniel Deusser's top horses and winner of the Grand Prix of Oslo and Lyon and the World Cup Qualifiers of Madrid and Bordeaux.
Talent El Barone 111 Z 'meets' the Usha van 't Roosakker family
Prinsjesdag Online also offers an embryo of the extremely talented Emerald son El Barone 111 Z; one of the up-and-coming talents in Belgian show jumping and a very popular breeding stallion. This embryo was bred out of the promising mare Anusha Key SR Z – a daughter of Armitages Boy out of the very successful mare Grand Cru van 't Hagenhof. This Bentley van de Heffinck daughter has already produced several international show jumpers and is a daughter of the well-known Babbe van 't Roosakker – dam and grandmother of top show jumpers such as Erco van 't Roosakker, Dulhan de la Roque, Giorgio van 't Hagenhof, Geena, Jiva Imperio Egipcio, Kheros van 't Hoogeinde, Mystic van 't Hoogeinde and many more. Great-grandmother Usha van 't Roosakker is the foundation mother of the 'Van 't Roosakker' dynasty.
Aganix du Seigneur, Hickstead & the damline of Carthago
Embryo number 3 is a descendant of the up and coming top progenitor Aganix du Seigneur out of a mare of the legendary Olympic champion Hickstead. Via great-grandsire Numero Uno, the pedigree of this embryo goes back to the Grand Prix show jumping mare A-Cover Girl – herself successful with the Swede Thomas Nilsson and full sister of the two-time Olympic show jumper and foundation stallion Carthago. In combination with Aganix du Seigneur, dam Exceptional already produced the very talented approved stallion Asterix de Couleur.
Olympic champion Big Star & 1.60m winner Andrea join forces
The fourth embryo in the Prinsjesdag Online collection was bred out of the 1.60m winner Andrea – one of Gert Jan Bruggink's most successful show jumpers ever. This competitive daughter of Marome NW won no fewer than 30 international classes under the saddle of Bruggink and later Abdullah Al Sharbatly, including the Grand Prix of Eindhoven, Dortmund, Bremen, Beervelde and Oldenburg. Andrea also successfully competed in the 2014 World Cup Finals in Lyon. Sire of this embryo is the world famous Big Star – the stallion who under Nick Skelton won Olympic team gold in 2012, won the Aachen Grand Prix in 2013 and individual Olympic champion in 2016. was in Rio de Janeiro.
Chacco Blue x Cornet Obolensky
The last embryo of this collection combines the leading progenitors Chacco Blue and Cornet Obolensky. Chacco Blue has been the undisputed number one in the WBFSH Sire Ranking for years thanks to world famous offspring such as Explosion W, Calisto Blue, Chalou, Chacco Kid, Blue Movie and many others. Cornet Obolensky is one of the most influential stallions of his generation and is currently represented by top show jumpers such as Clooney, Balou du Reventon, Comme Il Faut and Cornado NRW. The dam of this embryo, Cornet-Terma, produced the top talent Lykke Li-Terma Z, ridden by the Egyptian Nayel Nassar. Granddam Soterma is the dam of the Grand Prix stallion Brainpower, who was successful in the past under Willem Greve and now under the American Charlie Jacobs.
Exclusive opportunity: 1 straw Chacco Blue
Finally, Prinsjesdag Online also offers an exclusive straw of frozen semen from the one and only Chacco Blue: the number one supplier of showjumping horses at the moment. Unfortunately Chacco Blue died at the age of fourteen in 2012 and there is hardly any frozen semen available. With this straw you have the chance to use Chacco Blue for breeding and maybe breed a horse like Explosion W or Calisto Blue.
These six auction items will be auctioned on Monday 16 March via Prince's Day Online ), so register now and stay informed about this exclusive auction. The auction starts at 9 pm and for more information please contact online@prinsjesdag.eu.
https://www.prinsjesdag.eu/wp-content/uploads/2022/05/emerald-verkleind.jpg
533
800
bonsai
https://www.prinsjesdag.eu/wp-content/uploads/2022/05/Logo-prinsjesdag.png
bonsai
2020-03-12 09:07:46
2020-03-12 09:07:46
Prinsjesdag Online: five exclusive embryos and a straw from Chacco Blue