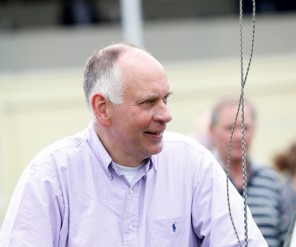 In conversation with Fred van Straaten Sr.
In conversation with Fred van Straaten Sr.
What conditions must a (jumper) foal meet in order to be selected for Foal Auction Prinsjesdag?
"The foals must be correctly built. We want the people who buy the foals to be satisfied after many years. Sport and health are related to each other. If a foal does not have a good leg position, it will sooner suffer from wear and tear. But by correct we also mean a well-built, functional body. Top horses have a body that is suitable for top sport. A foal with a sunken back or a hock joint that is too straight is therefore not selected either."
The power of performance?
"We look at the mother. What has he done in sports? We have a rule that the mother, grandmother and great-grandmother must have performed themselves in the sport or have offspring that perform remarkably in the sport. That is an indication of a horse's disposition and character. And it also says something about health. A large part of presenting is related to character. A top athlete is able to deliver great performances, even if they feel a pain. We are looking for horses that go for it, fight for you. We select with that in mind. The moment a foal enters the orbit and it is enterprising, it moves electrically and when you see that it does not stick to the mother but goes its own way, then you know; we must have it."
Prinsjesdag has been auctioning the creme-de-la-creme among the foals for years, where can you find it?
"As a selection committee, we start at a very early stage. You speak to many breeders before the foals are born. You know what kind of mares they have and you keep an eye on what kind of stallions they cover. You do not select according to your own preference. During the selection, we really sit in the buyer's seat. You learn that through years of experience. I always go out with Willem van Hoof. As an auction team, we are very well attuned to each other. By properly evaluating, we improve the selection every year. We do not only select from the larger breeders, we are always looking for the most interesting material and also try to capture interesting foals from breeders with one or two foals. Our entrants are our distinctive character. We have built up a very strong group of loyal entrants. It is important that you make people feel good."
What do you expect from this year?
"I think we selected very high-quality genetically this year. The pedigree structure just gets better every year, partly because we adjust our criteria every year and try to be even more critical of the material on offer. We really go for quality over quantity. We also worked really hard to get some interesting fillies into the auction and I think we succeeded. This year we have selected a number of For Pleasure offspring. They are doing very well in the sport now. Many people try to breed another foal from him, but the sperm is expensive and they run out at some point. At our auction people can now choose from four For Pleasure foals, all from top dam lines. Sometimes while selecting it feels like you are in a really big candy store. You just can't choose!"
https://www.prinsjesdag.eu/wp-content/uploads/2022/05/dwc-fred-v-straaten.jpg
247
296
bonsai
https://www.prinsjesdag.eu/wp-content/uploads/2022/05/Logo-prinsjesdag.png
bonsai
2017-08-10 11:14:06
2017-08-10 11:14:06
In conversation with Fred van Straaten Sr.