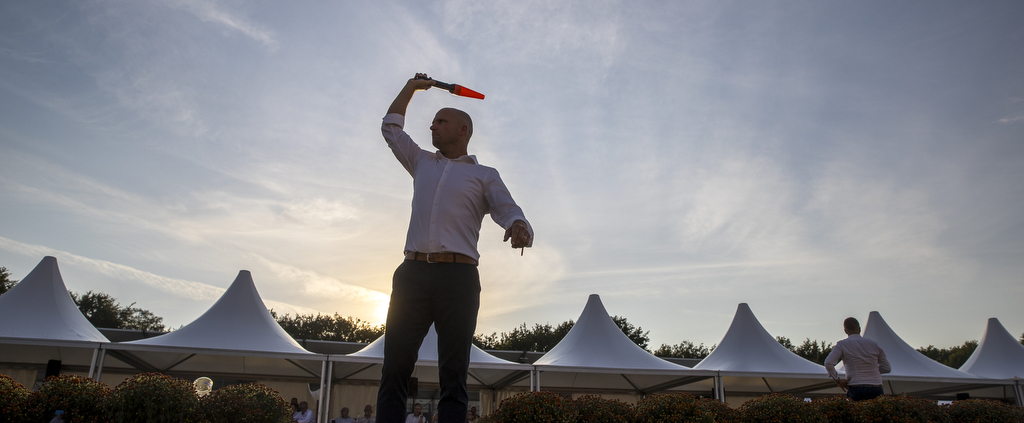 Newsletter with our partner Anemone and reference Defender Z
Due to the Covid-19 virus, it was uncertain for a long time whether our auction could take place in September. We were therefore very happy that after a number of measures and adjustments we could actually auction the hybrid on 15 September. Under truly beautiful summer conditions, those present were able to enjoy the great foals and good business was done. Buyers were given the opportunity to bid from all parts of the world through ClipMyHorse.TV Auctions' online bidding system.
The auction was started with Quality of Darena WD Z (van Stal Dekker from Benningbroek), who was auctioned for charity: For research into the prevention of the recurrence of melanoma cancer by Prof. dr. Van den Eerwegh. Egbert Schep bought this beautiful filly for 12,000 euros, half of which was donated to this noble cause.
The toppers from Texel were once again in demand among the dressage foals. The spectacular Poleposition Texel (Glock's Toto x Negro) became the most expensive dressage foal for 24,000 euros. Like her stable mate, Princess Lady Texel (Daily Diamond) will remain in the Netherlands for an amount of 22,000 euros. The auction topper was Chic Philyra VVZ. A son of Cornet Obolensky and Gibrouille du Lys, who himself took part in the Olympic Games in Rio de Janeiro. This strong foal leaves for Poland for 40,000 euros. For 30,000 euros Chacco Blue son Umano de W&S remains in Dutch hands.
The average price was more than 11,000 euros, with the jumping foals yielding 11,650 and the dressage foals almost 10,000. We are extremely pleased that we were able to experience such a successful auction under the current circumstances and we are therefore very grateful to our buyers, entrants and partners.
---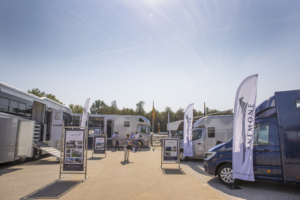 Anemone Horsetrucks more than a partnerr
One of those partners we are grateful for is Anemone Horsetrucks.
Since 2015, Anemone Horsetrucks has been an official partner of Foal Auction Prinsjesdag. Anemone is known for supplying horse trucks for every customer where quality is of paramount importance. Bert van Kooten: "We have been associated with the auction for a long time. When the auction first took place in Ermelo, we started putting up cars as decoration. It has since grown into a great partnership. Just like Prinsjesdag, we try to aim for a certain level, which I think is the reason that we are a good match. It is great that we can support each other in the market in this way."
Over the years, Van Kooten made a number of purchases at the auction that proved to be worthwhile: "One of the first foals we bought was Feeling Luckey (by Bustique x Krunch de Breve), this gelding now jumps 1.60 with Karim El Zoghby. Karim has his sights set on Tokyo with this amazing horse. Until then, of course, a lot can still happen, but we can already say that Feeling Luckey was a good purchase at the time. Thanks to the successful purchases and the great collaboration, Foal Auction Prinsjesdag has become part of our DNA!"
---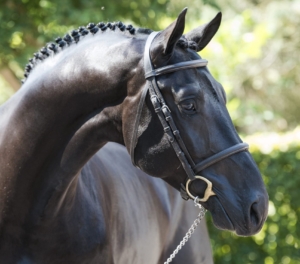 Reference Defender Z popular with breeders
One of the showpieces of our auction is the Defender Z, bred by Daphne van der Schaar. This son of jumping cannon Dominator Z and the Padinus daughter Atureusa Z, who jumped 1.40 (inter)nationally herself, was sold as a foal at our auction. The bidder that drew the longest straw was Herman Verhagen. "I thought Defender was a remarkably good foal at the time, he moved with a lot of flexibility, was well put together and with Dominator as a father and a good sports mother, he was very interesting to us."
Last year, Defender Z excelled in free jumping at the KWPN and Zangersheide stallion selections. Herman: "During the training prior to the inspection, Auke de Jong, who trains all our stallions, already let us know that he appeared to be of above-average quality. It is wonderful that it turns out this way at the inspection." As a result of this free jumping, his interesting pedigree and beautiful exterior, Defender was able to look forward to a lot of interest from the breeders. Verhagen: "This season, he has covered a large number of mares through the Enterbrook stallion farm in Enter. For this reason we took it easy with him under saddle, but the first jumps under saddle seem to be of the same quality as in free jumping. We are very curious about his first foals!"
---
https://www.prinsjesdag.eu/wp-content/uploads/2022/05/128457-1.jpg
682
1024
bonsai
https://www.prinsjesdag.eu/wp-content/uploads/2022/05/Logo-prinsjesdag.png
bonsai
2020-11-02 19:25:16
2022-05-17 13:16:12
Newsletter with our partner Anemone and reference Defender Z