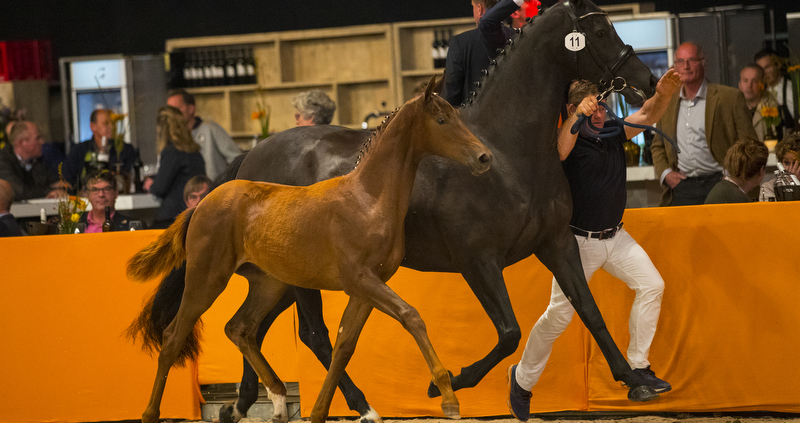 Promising foals registered for the auction
Every year the selection committees of Foal Auction Prinsjesdag are faced with an enormous challenge. Putting together an excellent dressage and jumping foal collection, preferably using the superlative. More than half of the foals in both breeding directions have already been definitively registered and the collections seem to be meeting sky-high expectations.
The foals will be auctioned at Foal Auction Prinsjesdag on 11 and 12 September. For the dressage foal auction, Bert Poppelaars is one of the selection members who does everything in their power to register the best foals for the auction. "We are about halfway through our collection and we are incredibly enthusiastic about the foals that we have been able to select. The contribution of the scouts is also striking, because in this way we were able to attract new breeders with interesting foals," says Bert Poppelaars. "In addition, over the years we have built up a very loyal network of breeders, and we have been able to select striking foals from a lot of them. In terms of selection, we can say that it is even easier than last year to register the best foals for our auction. The good results and reputation of Foal Auction Prinsjesdag also play a role in this."
Peaks at the auction
In addition to selecting top foals, the selection committee also takes on an advisory role when desired, with a view to preparing for the auction. "Because no matter how good your foal is, a dressage foal has to convince on the spot on auction day, otherwise it won't work. The breeders are well prepared when the foal is presented in optimal condition and we try to guide them in that. Because it is a win-win situation when a foal shows what it has to offer on auction day."
Superior sports genes
The selection committee is also bursting with enthusiasm in the jumping direction. "It seems really good. We are half way through and we have established quality foals with excellent bloodlines. Overall, I think it's even better than last year," says selection committee member Fred van Straaten. "We don't have to make many concessions in terms of origin and the quality of the foals on offer shows that the breeders have already selected well themselves. We can fish from a very interesting pond and we have a group of loyal breeders who keep their best foals for auction. That is a great starting position!" A first look at the pedigrees of the selected foals makes it clear that breeding responds well to what the big sport demands. "We have selected foals from very strong sport lineages, with a lot of sport in the first three generations. In addition, they descend from interesting stallions that now stand out in the sport themselves or as progenitors, such as Halifax van het Kluizebos, Quabri de L'Isle, Emerald van 't Ruytershof and Nixon van 't Meulenhof."
International reputation
It is also striking that several foals from foreign entrants have already been selected so far. "For example, from breeders from Italy and Saudi Arabia. They mostly operate their breeding in Europe and we are pleased to note that Foal Auction Prinsjesdag is the first choice for them", says Fred van Straaten.
https://www.prinsjesdag.eu/wp-content/uploads/2022/05/Prinsjesdag-128740.jpg
533
800
bonsai
https://www.prinsjesdag.eu/wp-content/uploads/2022/05/Logo-prinsjesdag.png
bonsai
2018-06-01 13:18:09
2018-06-01 13:18:09
Promising foals registered for the auction