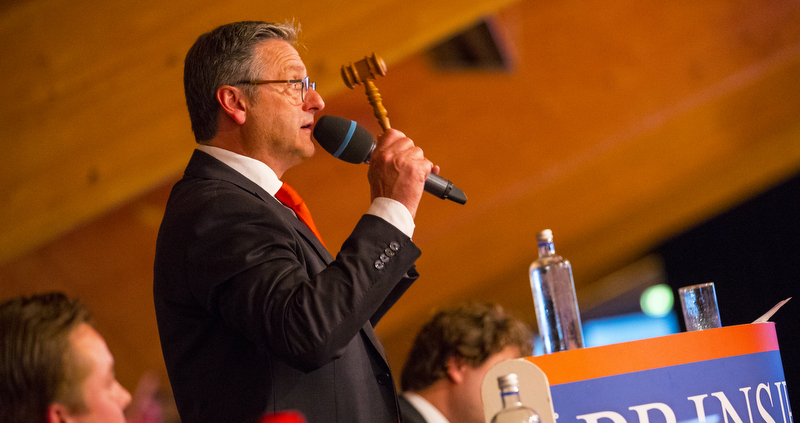 CSI Ommen: Prinsjesdag auctions absolute top genes
A direct Carthago descendant, sons of sporty high earners such as Don VHP and Breitling LS, and the dam lines of international greats such as Usha van 't Roosakker, Gancia de Muze, As Cold As Ice Z, Plot Blue and Dulf van den Bisschop. For the exclusive Prinsjesdag auction on CSI Ommen on August 3, the selection committee was able to put together a very interesting group of ten promising foals.
Following on from the first edition in 2018, another edition of Foal Auction Prinsjesdag will take place this year during CSI3* Ommen. On Saturday 3 August, auctioneer Koen Olaerts will be selling ten exclusive future talents in the evening. Last year it turned out that top international riders made their mark during this auction, and this year's collection only increases that chance.
Belgian influence
It is striking that half of the collection comes from Belgium. "That is unavoidable these days, because Belgian breeding has made enormous strides in recent decades. Nowhere can you find so many performance genes as in our southern neighbors", explains selection committee member Fred van Straaten. "We felt like a child in the candy store with various Belgian breeders. Fantastic foals with the very best pedigrees, and that is exactly what we are looking for for Foal Auction Prinsjesdag."
Selector Willem van Hoof is also eagerly looking forward to the auctions in Ommen and Ermelo, for which the collection of jumping foals is now also complete. "This year we were able to select the foals for Ommen at an early stage and we deliberately looked for slightly older foals, as the auction is already at the beginning of August. I think the selected foals have interesting sire and dam lines and most of the foals are closely related to top show jumpers. And not only on paper, but also the foals themselves are very promising. In that regard, we just have to hope that they end up in the right hands," concludes Van Hoof.
Genetic gems
"We were able to produce an interesting mix of mare and colts for the auction during CSI Ommen, which we believe will meet the buyers' demand. For example, we are very happy with a filly by Cello van de Bisschop out of a daughter of Usha van 't Roosakker, which will be a very good investment for both the athlete and breeder. We also have interesting fillies by Opium JW van de Moerhoeve and Diamant de Semilly", adds Van Straaten.
Genetic highlights for sport and stallion breeding are also part of the collection. "It's great that we were able to select a very special colt from the Olympic top progenitor Carthago. And convincing colts such as a Don VHP Z out of the damline of Gancia de Muze, a For Pleasure out of the damline of As Cold As Ice Z, a Poker de Mariposa out of the famous Lottie/Zottie damline and a Diarado out of the strong Niki- tribe."
Sport and breeding
Last year the auction proved during CSI Ommen all its value because sportsmen such as Lucas Porter, Willem Greve and Hendrik-Jan Schuttert bought one or more foals. This year you can go through WeAuction online in real time. The full collection will soon be available at www.prinsjesdag.eu. The collections for the regular auctions in Ermelo on 17 (jumping foals) and 18 (dressage foals) September will also be published here.
https://www.prinsjesdag.eu/wp-content/uploads/2022/05/Prinsjesdag-126186.jpg
533
800
bonsai
https://www.prinsjesdag.eu/wp-content/uploads/2022/05/Logo-prinsjesdag.png
bonsai
2019-06-13 21:15:33
2022-06-07 14:28:34
CSI Ommen: Prinsjesdag auctions absolute top genes