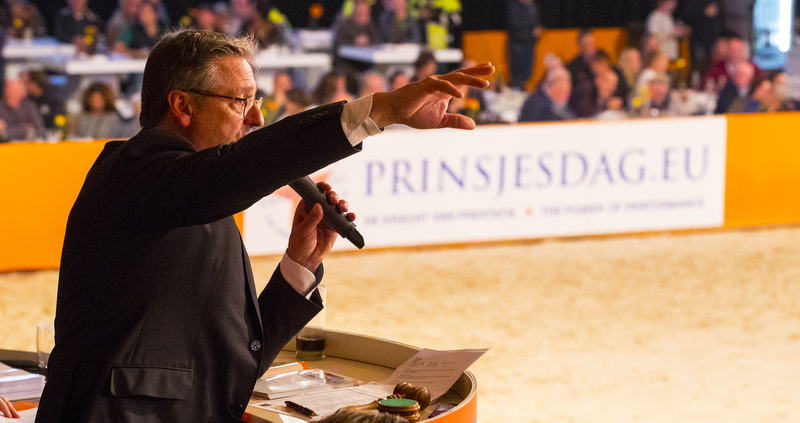 Jumping foals break records during anniversary edition Foal Auction Prinsjesdag
Jumping foals break records during anniversary edition Foal Auction Prinsjesdag
If the 25th edition of the Foal Auction Prinsjesdag has made one thing clear, it is that quality is paid for. The performance-infused collection was well received by the international buying public, bringing in an average price of €15,523. Two excellent fillies took the cake with €48,000 and partly because of this the one million barrier was broken for the first time.
"Great, as a board and organization you can only dream of an auction like this in advance", agrees chairman Arjan van der Waaij. The intensive efforts to put together a top collection and to get the right buyers to the auction were optimally rewarded on this 25th edition of Foal Auction Prinsjesdag. "Every auction looks at the average price, and of course we are very happy with an average of more than 15,500 euros. That is again 1,500 euros more than last year. But what we find even more important is that both the breeders and the buyers go home with a very satisfied feeling. And given the fantastic course of this auction and the many happy faces, I think that is certainly the case."
Investment
What this auction also made clear is that buyers are willing to make a long-term investment by purchasing high-quality fillies from proven performance stocks. Rosie van het Netehof (Nixon van 't Meulenhof from the well-known Qerly Chin line) and Riante VDB (Cicero Z from the Usha van 't Roosakker line) both raised €48,000 and left for Iran and a Dutch sports stable respectively. . "As an auction we are totally dependent on the entrants and we have really worked hard to get such exceptional fillies in our auction. It is now an investment for buyers, but one with a good revenue model. Because with such excellent fillies, it quickly pays off as soon as they are used for breeding through, for example, embryo transplantation. With a bit of luck you will have earned back a large part of the investment", says Van der Waaij.
International
The 65 foals have been sold to countries such as America, France, Canada, Iran, Estonia and Germany. The Di Cantero filly Retina van de Bisschop (ds. Elvis ter Putte) yielded €30,000 and remains in the Netherlands, and with a price of €28,000 Mona Lisa ES (Quickly de Kreisker x Cumano) and Rodéric van 't Merelsnest (Vigo d'Arsouilles x Lord Z) also yielded a good yield on. "Prior to the auction we had a special anniversary drink, but now after the auction we raise our glass again. And then quickly set our sights on tomorrow, the auction of the dressage foals. That is a completely different auction with a completely different audience, but we will do our best to make it such a party again."
https://www.prinsjesdag.eu/wp-content/uploads/2022/05/Prinsjesdag-126215.jpg
533
800
bonsai
https://www.prinsjesdag.eu/wp-content/uploads/2022/05/Logo-prinsjesdag.png
bonsai
2017-09-19 23:52:29
2017-09-19 23:52:29
Jumping foals break records during anniversary edition Foal Auction Prinsjesdag